The Earth is the only home we have. If we don't take care of her then all other things are unimportant. Our 'progress' has taken us to the brink of our own extinction. Without action the waters and air will be so polluted that the planet will no longer be able to support life. Learn all you can... AND TEACH YOUR CHILDREN. Make an effort. Make a promise to yourself to take steps to do your part to protect and clean our environment. Here are some very helpful (and enjoyable) web sites:

Eartheasy is about sustainable living. It offers information, activities and ideas which help us live more simply, efficiently and with less impact on the environment. This is a very lovely as well as practical site that I highly recommend. It encourages simplicity in life and the site reflects this in it's beautiful yet simple presentation.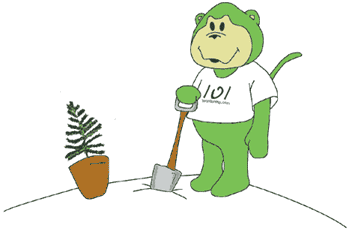 This site is dedicated to helping people find ways to take better care of our environment. To do this, they encourage each individual to actively change their personal habits, their households, and even their communities. This site is especially helpful for younger people to learn more and how they can help.
The Natural Resources Defense Council (NRDC) web site provides a comprehensive environmental perspective on what's happening in the world today. You'll find everything environmental on NRDC's web site, from quick overviews and fun features to in-depth technical materials. Check them out for a lot of very valuable ideas.
WWF directs its conservation efforts toward three global goals: protecting endangered spaces, saving endangered species and addressing global threats.

Since 1993, the Environmental News Network has been working to educate the world about environmental issues facing our Earth.
Environmental Defense is dedicated to protecting the environmental rights of all people, including future generations. Among these rights are clean air and water, healthy and nourishing food, and a flourishing ecosystem.
APROVECHO Aprovecho is a center for research, experimentation and education on alternative technologies that are ecologically sustainable and culturally responsive. Our fields of study include organic gardening, sustainable forestry, and appropriate technology. The center is located on a beautiful 40-acre land trust near Eugene, Oregon.